Alex Little Soldier Wind Turbine ProjectHB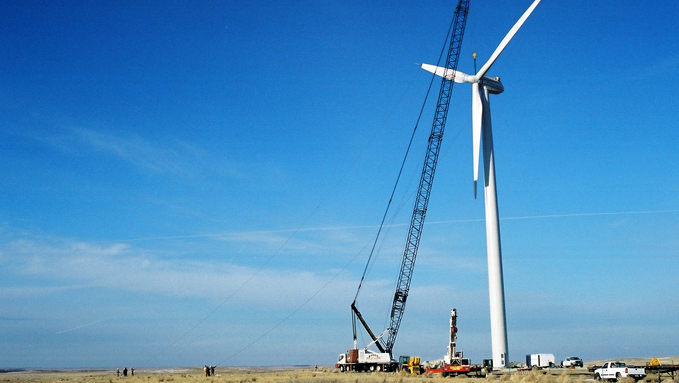 With the help of NativeEnergy, the Rosebud Sioux Reservation installed the nation's first tribally-owned, large scale wind turbine.
Project Details
The Alex Little Soldier Wind Turbine was built with NativeEnergy's financial support in the spring of 2003. The turbine is located near the town of Rosebud, on the Rosebud Sioux reservation in south-central South Dakota. Tribal officials saw this first turbine as the start of an economic development initiative that would bring a vital industry to the reservation – a "show horse" with an educational mission. In addition to the support from our customers, the Rosebud single turbine project and plans for the wind farm were funded under a Department of Energy grant and loan from the Rural Utility Service. Disgen, Inc. provided development services.
"We appreciate NativeEnergy's help in getting this first turbine built, and we're excited about how their program engages people in the fight against global warming by helping to build new wind farms."
– William Kindle, former President
 of the Rosebud Sioux Tribe
The Alex Little Soldier Wind Turbine is a 750 kilowatt (kW) NEG Micon wind turbine. The turbine stands atop a 170 foot tubular tower and has three blades, spanning a diameter of 150 feet. It begins generating electricity when wind speeds exceed 8 mph. It reaches its maximum 750 kW rating at 31 mph, and shuts down when wind speeds exceed 55 mph. The average wind speed at the site is estimated to be 17.9 mph at a 155 feet above ground, and the turbine produces about 2,300,000 kilowatt hours (kWh) of clean electricity each year, enough to supply about 200 homes.
"The tremendous wind resources of the northern Great Plains have many Indian tribes looking at utility scale renewable energy generation as a "no-regrets" sustainable homeland economic development strategy, with a positive impact on CO2 emission reductions. And the Rosebud Wind Project is leading the way in bringing tribal utility scale wind power on line."
– Pat Spears, President, Intertribal COUP
Unfortunately, since 2016 the turbine has not been operating due to a mechanical failure with the gear box. Since then, the tribe has been seeking funding sources to make necessary repairs and to get the turbine up and running again. To date, the project has generated 24% of the originally forecasted 25-year volume.
Sustainable Development Benefits
Initially projected reduction of 46,226 metric tonnes of greenhouse gas pollution
Replaces polluting grid-based electricity with renewable energy
Helps stabilize the electric grid with distributed power generation
Bolsters the local economy by providing income to the Rosebud Sioux Tribe
Project Participants
This project is a collaboration among the Rosebud Sioux Tribe, the project developer Disgen, Inc., Intertribal COUP, and customers who purchased NativeEnergy's Help Build™ carbon offsets.
Validation and Verification
This project was validated using Carbon Neutral Network methodologies.
Financial Additionality
According to Bob Gough, the attorney who represented the Rosebud Sioux Tribe in connection with the project's development, "NativeEnergy's funding was approximately 25% of the cost of the Rosebud turbine. NativeEnergy's promise of additional revenue for the renewable energy credits, to be paid up front to the project once it achieved commercial operation, was a valuable component of the overall project financing and helped make it possible for the Rosebud Sioux Tribe to make the final decision to move ahead."
Tags