Mains Family Farm ProjectHB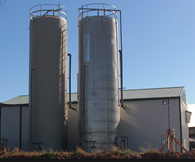 NativeEnergy helped install a methane digester on the Mains Dairy Farm in southern Pennsylvania.
Carbon Project Type: Farm Methane Power
Location: Newville, Pennsylvania, U.S.
Volume: 43,300 metric tonnes
Capacity: 74 kW
With upfront funding from Help Build™ carbon offsets, Mains Dairy in Newville, Pennsylvania, constructed an anaerobic digester for manure conversion and electricity generation. This avoids greenhouse gas emissions in two ways:
It avoids methane emissions from manure by "digesting" the slurry and combusting the methane.
It replaces local grid-based electricity with renewable energy.
Mains Dairy Farm is family-owned, founded in 1997 by Daniel Mains and his father, Francis. The farm's herd has grown to approximately 800 cows over the past two years—730 milk cows, 125 dry cows, and 60 heifers are contributing manure to the digester. The farm employs six people.
NativeEnergy carbon offset purchases aided the family's commitment to environmental stewardship and economic innovation. On behalf of our customers, NativeEnergy bought, in advance, the carbon offsets associated with the operation of the digester. This provided upfront funding for a significant portion of the total capital costs.
The digester engine stopped running at the Mains farm sometime in 2016, and the farm lacked funds to make necessary repairs. For a few years, the digester continued to operate and flared the methane that was produced, so the methane emissions reductions were still achieved, but no electricity was produced. In 2018, the digester ceased operations. The project achieved 10,545 tonnes of CO2 equivalent reductions out of the originally forecasted 43,300. However, due to the success of our other Pennsylvania digester projects, this deficit is well on track to be made up by other projects.
Sustainable Development Benefits
Environmental Benefits
Displaced polluting grid-based electricity with renewable energy
Initially estimated to reduce 43,300 metric tonnes of greenhouse gas emissions
Reduced the farm's nutrient runoff, odor, and pathogens
Created safer organic fertilizer to apply to the fields
Social Benefits
Reduced energy and nutrient management costs for the farm
Created bedding for the cows, replacing expensive and hard-to-find wood shavings
Preserved open space, local agriculture, and the traditional community
Project Participants
This project is a collaborative effort between the Mains, NativeEnergy, and Environmental Management Group International.
Validation and Verification
This project was validated using Climate Neutral Network methodologies. The project's performance was third-party verified every other year.
Financial Additionality
This project meets NativeEnergy's stringent additionality criteria, as our funding was necessary to the project's implementation.