Mid-American Growers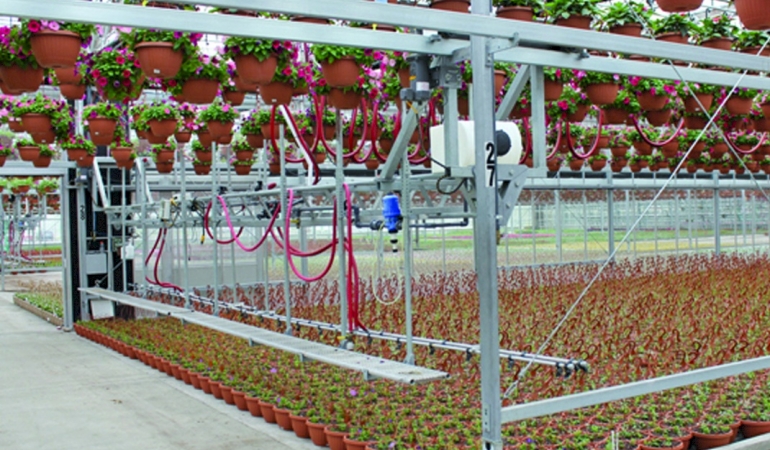 With approximately 70 acres of heated greenhouse facilities, Mid-American Growers (MAG) is one of the largest single site commercial growing operations in the United States. Greenhouse operations of this size are large users of thermal energy, as it is necessary for them to grow year-round in order to be successful.
This specific project activity will be implemented in two distinct phases. Phase I consists of the installation of two 8 MW biomass boilers to replace a majority of their heating needs, which had been supplied by natural gas boilers. Construction of Phase I began in 2007 and the boiler system became fully operational on November 3, 2008.
Phase II is the installation of an additional 8 MW biomass boiler to offset heating needs currently supplied by a combination of direct-fired natural gas heaters and natural gas boilers. Upon completion of this installation in March of 2010, MAG is now meeting approximately 93% of its annual heating needs with the biomass boiler system.
Natural gas will still be used as the fuel to heat office areas.  However, office space is not part of the project activity and will not be affected by the project activity.
An important component of this project involves sourcing the appropriate renewable biomass to ensure that carbon pools are not being decreased throughout the lifetime of this project. Numerous suppliers of biomass material have been screened to confirm that the biomass material they provide complies with the requirements of the carbon standard.
Sustainable Development Benefits
The project will source locally obtained renewable biomass consisting partly of landscape waste and other reclaimed materials. The project will help MAG to remain competitive in the commercial growing industry.  The environmental benefits of this project are a function of the reduction of fossil fuel usage for heating of the greenhouses.
Project Participants
NativeEnergy is the exclusive marketer of offsets from the MAG project from 2010-2013.
Validation and Verification
This project is independently validated and verified to the Verified Carbon Standard.
Financial Additionality
The project demonstrates financial additionality according to UNFCCC definitions because the revenues from the offset purchases contribute a critical portion of the overall project funding.
Tags