Rainier Farm Biogas ProjectHB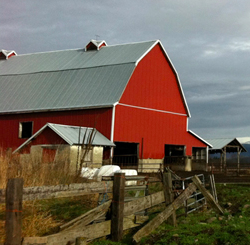 NativeEnergy is helping the community of Enumclaw, Washington, build an energy-producing methane digester.
Carbon Project Type: Farm Methane Power
Location: Enumclaw, Washington, U.S.
Volume: 32,000 metric tonnes
Standard: Climate Action Reserve
Nestled in the foothills of the Cascade Mountains, the agricultural community near Enumclaw, Washington, has been organizing to build a methane digester for nearly a decade. The county and dairy industry have faced numerous economic challenges, leading some to believe that the project—and its many benefits—would never materialize. But with the assistance of a local developer and the promise of funding from NativeEnergy, hope was renewed.
Kevin Maas of Rainier Biogas, the project developer, noted: "The community has supported this project because everyone will benefit from it. It will reduce greenhouse gas emissions, it will protect the area's sensitive rivers and streams, and it will provide nutrient management and low-cost bedding for local farmers."
Project Details
Rainier Biogas collaborated with three family farms—Ritter Dairy, Wallin Dairy, and the DeGroot Brothers Dairy—to build a foundation for the project. The farms, which house a total of 1,200 cows, all contribute manure to the digester. By collaborating, these small farms fashioned a solution to manure management that wouldn't be available to each of them alone.
The project is projected to avoid 4,000 metric tonnes of greenhouse gas emissions annually.
Conventionally, manure from dairy farms is collected and temporarily stored in open air lagoons. Because of the anaerobic environment, decomposition of the manure results in the release of methane—a greenhouse gas 25 times more potent than carbon dioxide—into the atmosphere. Instead, the Rainier Biogas project uses a sealed, heated concrete digester to transform the waste into electricity. It collects the methane biogas and feeds it to a 1-megawatt electric generator. This generator delivers renewable energy to the region's electrical grid.
After initial development costs, the Enumclaw project is self-sustaining through the sale of electricity to Puget Sound Energy. By purchasing Help Build™ carbon offsets, our customers provided critical upfront funding for this innovative methane digester—benefiting both the environment and local farmers.
The digester is hosted at Ritter Dairy's dry cow facility, which is linked by pipe to the DeGroot farm across the street. Wallin Dairy delivers its manure by truck. In accordance with the carbon protocols, other greenhouse gas emissions—such as those created by this trucking—are included in the calculations to determine the project's overall net emissions reductions.
Sustainable Development Benefits
The Environment: The Rainier Biogas Project is projected to avoid more than 4,000 metric tonnes of CO2 emissions annually, helping to reduce pollution that is contributing to climate change. The project also helps protect two vulnerable watersheds by removing a portion of the nitrogen and phosphorus from manure spread on cropland each year. If not handled properly, nutrient-laden manure can harm lakes, streams, and groundwater.
Family Farmers: The farms and community benefit from free manure processing which nearly eliminates odor, kills weed seeds, and reduces pathogen levels. In addition, fiber separated during the process provides a safe, local source of cow bedding for the farmers. Using this bedding in place of imported sawdust can save farmers thousands of dollars per year.
The Community: The Enumclaw area benefits from the creation of several long-term operations jobs, a stronger dairy community, reduced odor, less chance of manure fecal coliform reaching streams, and reduced nutrient loading on cropland. The wider region benefits from energy production, improved disposal options for food-processing waste and agricultural residues, and reduced emissions from avoided lagoon methane and power generation.
Project Participants
This project is a collaborative effort among NativeEnergy, Rainier Biogas LLC, Puget Sound Energy, and the participating farms. The project received incentives from Washington State Energy Program Grant and Loan, the Department of Energy, King County, and the USDA.
Validation and Verification
These project's emissions reductions are verified every other year by an independent third party to the Climate Action Reserve Livestock Protocol.
Financial Additionality
This project demonstrates financial additionality according to UNFCCC definitions in that the project faced barriers to implementation that were overcome by the opportunity to receive carbon revenues. The upfront payment commitment from NativeEnergy was required to satisfy the developer's investment requirements.
Tags