Stonyfield Farm Solar ArrayHB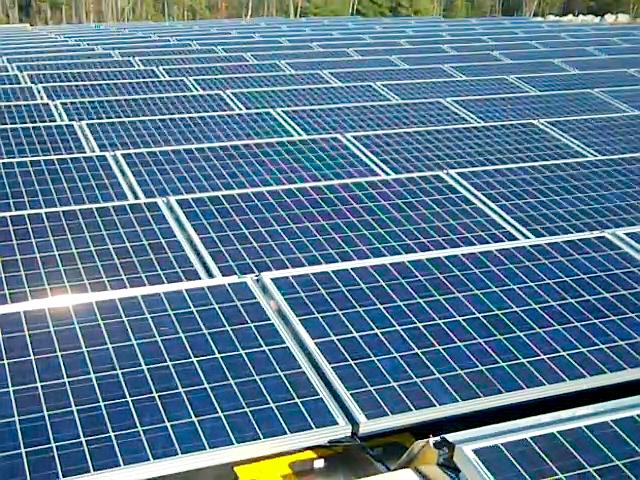 NativeEnergy helped Stonyfield Farm install a solar array on their New Hampshire manufacturing facilities. 
Carbon Project Type: Solar Energy
Location: Londonderry, New Hampshire, U.S.
Volume: 756 metric tonnes
Capacity: 50 kW
In the summer of 2005, we helped build what was New Hampshire's largest solar array, a 50 kW system on the roof of our long-time partner Stonyfield Farm's manufacturing facilities. The system was developed and is owned and operated by Vermont-based Solar Works. It was financed primarily by Stonyfield Farm's purchase of the expected life-of-project REC output, and without state funding as is available for solar power installations in many Northeast states. Stonyfield Farm's visitor center is equipped with a real-time power monitoring computer and information describing how the system generates clean energy.
"This project is another step for us on our journey toward our dream of freeing Stonyfield Farm from the impacts and risks of fossil fuels," said Gary Hirshberg, Stonyfield Farm President and CEO.
"After witnessing the devastating impacts of Hurricane Katrina, we are more motivated than ever to not only be free from fossil fuels but also committed to halting global warming. As business leaders, we have to start taking steps toward energy independence for both our business's financial success and our nation's economic vitality and national security."
Sustainable Development Benefits
This project is expected to:
Reduce 756 metric tonnes of greenhouse gas pollution
Replace polluting grid-based electricity with renewable energy
Help stabilize the electric grid with distributed, small-scale power generation
Project Participants
This project is a collaborative effort between Stonyfield Farm, NativeEnergy, and Solar Works.
Validation and Verification
This project's emissions reductions were quantified using the Climate Neutral Network methodologies.
Financial Additionality
This project met NativeEnergy's stringent additionality criteria, as our funding was necessary to the project's implementation.
Tags