By Jonny BearCub Stiffarm and Claire Lafave 
In 1991, the Intertribal Buffalo Council, representing 76 federally recognized Tribes in the U.S., was founded to facilitate the transfer of wild bison to Native American tribal lands. A new paper in Frontiers in Ecology and Evolution, co-authored by our Director of Business Development, Jonny BearCub Stiffarm, explains the benefits of repatriating bison on tribal lands if it is done in a way that meets community needs and aspirations. The paper states that bison reintroduction "can contribute to change in Native American communities in multiple ways: (1) spiritual, by healing the spirit of the buffalo and the people; (2) cultural, by restoring people's connection to their heritage including enabling food sovereignty and security on reservations; (3) economic development (e.g. tourism, bison hunts, sale of live bison, or bison meat); (4) and ecological, by supporting ecosystem resiliency through sustainable bison grazing."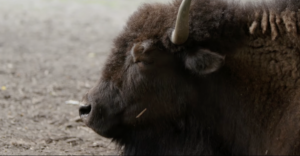 Bison play an important ecological function in the Northern Great Plains as a keystone species that promote "plant functional-group and species richness" and increase "landscape arthropod, amphibian, and plant diversity." They are also more adaptable than cattle to the changing climate in the region as they are more "tolerant of extreme heat" and they "seek shade and water less frequently than cattle, which in turn reduces sediment load in the sensitive streams that meander through grasslands." 
Bison were first re-introduced to the Fort Peck Reservation, where Jonny lives, in 2000. But community members were concerned that their return was not having the anticipated effect. In 2014, a grassroots group of community member volunteers, called the Ptė Group (of which Jonny is a member), came together with Montana State University (MSU) researchers to ask the question; "How do we ensure the return of the buffalo contributes to our health and prosperity in the ways that prophecy foretold?" The Ptė Group, the MSU Researchers, and the World Wildlife Fund (WWF) began to work together to survey community members on what they value, need, and aspire to for the return of their relatives, the buffalo. 
Results from 3,000 households indicated that:
91% of respondents agreed that "We should encourage youth to learn about buffalo and other wildlife for future jobs"

87% agreed "We should use buffalo for healthful food" 

70% agreed that "Fort Peck should establish a herd for viewing that is more accessible

83% agreed that "We should help restore buffalo to the grasslands of North America"

Only 21% agreed that "Tribal members have a fair opportunity to hunt buffalo at Fort Peck"

Only 23% said yes to "I know how to obtain buffalo meat or products from sources on the reservation" 
It was clear that additional capacity was needed to deliver on all of the needs and aspirations expressed. Armed with this information, the Ptė Group launched a number of initiatives in partnership with Head Start, Fort Peck Community College, and funders.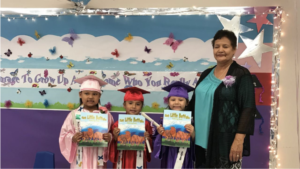 The Ptė Group worked with Head Start to create a curriculum where preschoolers learn the history and cultural significance of bison in the classroom, followed by a springtime visit with their local cultural herd. 
The Ptė Group worked with WWF to develop a community-based bison conservation and harvesting program. The Tribal Office has been selling affordable buffalo meat from the reservation since 2018. Bison meat distribution has been an important component of food security during COVID-19, reaching 456 reservation households, and impacting an estimated 1,386 Tribal citizens. The Ptė Group also created a well-advertised Tribal member buffalo hunt lottery, which gives community members the opportunity to engage in the traditional practice of harvesting buffalo. The drawing is conducted by the Tribal Executive Board and broadcast on Facebook Live. In addition, the Tribal Buffalo Program has implemented online hunt license sales to non-tribal members to increase revenues and offset the cost of program operations. 
The Tribal Buffalo Program is building powerful outreach and access materials to increase Tribal knowledge and connection to the buffalo. They started with a regular newsletter, and now they are working with MSU, the Fort Peck Community College, community members, and the Tribal Economic Development and Tribal Executive Board to develop a 7-mile trail with art installations within the buffalo pasture for tribal members and tourists to visit. 
As the paper in Frontiers in Ecology and Evolution states, "bison are essential for the restoration of NGP (the Northern Great Plains). It is possible that the current efforts to restore bison herds to Native American lands will be the key to this future restoration, but only if these efforts provide for the needs and aspirations of Tribes." This community-guided approach is exactly what the Ptė Group is enabling on the Fort Peck Reservation. Through collaboration and community consultation, the Ptė Group is making the community's vision for buffalo at Fort Peck a reality and leaving a powerful legacy for future generations. 
To learn more about the Ptė  Group and the program, check out this video. 
Native encourages its staff to do impactful volunteer work in their communities and provides 16 hours of paid volunteer time. Jonny's participation in the Ptė Group is partially covered by this benefit.