Dr. Kieran Avery, a trained veterinary scientist and natural resource manager, joins our grasslands team after seven years in Kenya with the Northern Rangelands Trust (NRT are our close partner on the Northern Kenya Rangelands project). I recently sat down with him to learn a bit more about his experiences living and working on this landscape. Responses have been edited for clarity.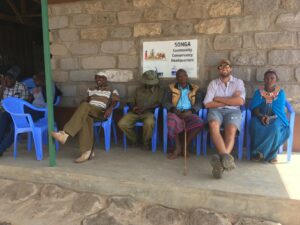 Tell me about the place where you live.
Well, I live in Kenya which is where I was born and raised. We just built a house which overlooks Borana, a private conservancy that borders the Lewa Conservancy, where NRT's office is located. We hear lion at night. We see elephant and rhino from our veranda, and lots of interesting birds too. It's a very dry environment – which is what I like! The people who live around us are Maasai, practicing traditional livestock-keeping. We are off grid; living off solar energy, and we have a home-made water recycling unit, which I made using a series of anaerobic and aerobic tanks using an air pump to oxygenate the final few tanks, so we flush all our toilets and water our plants using recycled water. We've got plans to get a cow, so that we can have our own milk, and we will develop a vegetable patch in time to become as self-sufficient as we can. It's a pretty cool, special place. You can't plant trees here because elephants would come in and eat them – a unique issue to deal with!    
What is your relationship to the landscape there? 
I grew up here. Our parents were the kind who always got us out. We never just sat at home. If we had a free weekend we always did something adventurous. And Northern Kenya was that place because it's so big, so vast, so wild. We spent a lot of time camping here – often two week trips, fully self-supported. I built a love for the sounds, the smells, the cultures of this place. 
When I trained as a vet in the UK – I worked there for four and a half years – I just wanted to get back home. When I was offered the job with NRT, it was a no-brainer to come back. But it is changing fast. There are lots of threats. I'm hoping through this project we can try to protect it. 
Tell me about your job: What do you do and why? 
I'm a vet by training with a real interest in wildlife and biodiversity. I've been here since 2016 and my role has been focused on rangelands and rangeland improvements. I've also got a pilot's license, so I get to fly around the landscape and this allows me to know the landscape as well as one can. I've got a nice personal relationship with all the communities on the ground and their leaders, so I can give them a ring and figure out how things are going. 
What is your view of the role of carbon funding in supporting the conservation of this landscape? 
Without the tangible benefit of carbon funding, it can be difficult to incentivize and maintain change. It's a massive game-changer, as grant and philanthropic funding is just not at the same scale or consistency. Also grant donors often have specific targets, whereas with carbon funding, communities can choose how and where they want to use it to deliver maximum impact. 
Tell me more about the stuck elephants.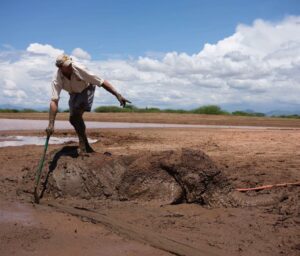 There is a dam in one of the conservancies that's filling with more and more silt. It's basically a symptom of degradation within the landscape. It forms this dry cap that you and I can walk across no problem, but elephants – trying to drink water – will break the cap and sink through, and then it turns to chocolate mousse consistency which is impossible to move from once in it. It's the most treacherous "quicksand" on earth! Once they've broken that cap, they will never get out on their own – they would die there from exhaustion and dehydration. The community there called us and said, "there is an elephant stuck here!" 
Given its remoteness, I flew up in a plane with ropes and rescue gear (trying to get a rope around an elephant stuck in mud is a tricky thing!). Then, the nearest ranch (Loisaba – two hours away) brought a 4WD tractor, and we were able to pull them out. It was a whole day job. The first time there was just one elephant. At the next call, there were three of them together. But it was a cool story because we didn't lose any of them, and we now have plans underway to desilt the dam and protect it from future cases like these.
What else should people know about you or this landscape?
The biodiversity value of Northern Kenya is immense. There are endemic endangered species, it's a critical corridor for birds, and it's a free open-roaming (no fences) landscape which in Africa, at this scale where humans and wildlife co-exist, is becoming rarer and rarer. There's huge potential for elephant numbers to increase in this landscape. So it has an amazing story to hold into the future if we can help guide it that way… And the people living there will be the key to this success.
And I'm dedicated to this long-term. I've chosen to live here right amongst it, so it's a real vested interest of mine to make sure we can keep it as it is and make it better, with people and their livelihoods at the forefront of it all.